L'Africa Women Innovation and Entrepreneurship Forum (AWIEF) a le plaisir d'annoncer les finalistes de nos prix AWIEF 2022.
Actuellement dans sa sixième édition, les prestigieux prix annuels AWIEF reconnaissent, honorent et célèbrent les femmes entrepreneures et chefs d'entreprise en Afrique dans divers secteurs pour leurs réalisations et leur contribution à la croissance économique inclusive et au développement social du continent.
Un jury indépendant composé de deux anciens lauréats du prix AWIEF a pris l'initiative de sélectionner les 24 finalistes dans 8 catégories clefs. Ces femmes entrepreneures et chefs d'entreprise exceptionnelles représentent des entreprises dans divers secteurs et opèrent dans 12 pays africains différents : Cameroun, République Démocratique du Congo, Égypte, Éthiopie, Ghana, Kenya, Namibie, Nigéria, Sénégal, Afrique du Sud, Tanzanie, et Zimbabwé.
Les lauréates des prix AWIEF seront annoncés et célébrés lors d'une cérémonie spéciale et d'un dîner de gala, parrainés par Amazon Web Services (AWS) lors de la conférence AWIEF2022 qui se tiendra les 26 et 27 septembre 2022, sur place au Caire, en Égypte et virtuellement.
Mme Irene Ochem, fondatrice et directrice générale de l'AWIEF, déclare : « Nous avons été une fois de plus très impressionnés par les profils diverses des femmes africaines et encore plus par les actions que ces femmes entrepreneures et chefs d'entreprise accomplissent sur le continent africain. Nos 24 finalistes incarnent le leadership, la résilience et l'innovation, des ingrédients nécessaires à un succès durable et nous sommes ravis et fiers de les célébrer tout comme de les honorer par le biais de nos prix AWIEF.
Daisy Molefhi, fondatrice et vice-chancelière de l'ABM University College, Botswana, ancienne lauréate du prix AWIEF pour l'ensemble de ses réalisations et juge 2022, a déclaré : « Juger les prix AWIEF 2022 a été une révélation pour des initiatives étonnantes et transformatrices des femmes à travers le continent africain.
Ancienne lauréate du prix AWIEF pour l'ensemble de ses réalisations et juge 2022, Margaret Hirsch, cofondatrice et directrice exécutive, Hirsch's Homestores, Afrique du Sud, a déclaré : « J'ai trouvé que les prix AWIEF 2022 étaient d'un très haut calibre. Le jugement a été très difficile car ils étaient tous si uniques à leur manière. Ce que je recherchais, ce sont des femmes qui non seulement dirigent une entreprise prospère, mais qui aident également d'autres femmes à se développer. »
Le Dr Nevine Abdelkhalek, doyenne de l'école de formation continue de l'Université du Nil, en Égypte, a déclaré : « Ce fut une expérience précieuse et enrichissante de juger les prix AWIEF 2022. Je suis vraiment heureuse d'avoir fait partie du jury et j'ai hâte de rencontrer ces finalistes au Caire. Il était très difficile de choisir l'excellent profil parmi les meilleurs. Ils sont tous impressionnants, avec une vision claire et dévouée et pleins de passion pour ce qu'elles accomplissent. »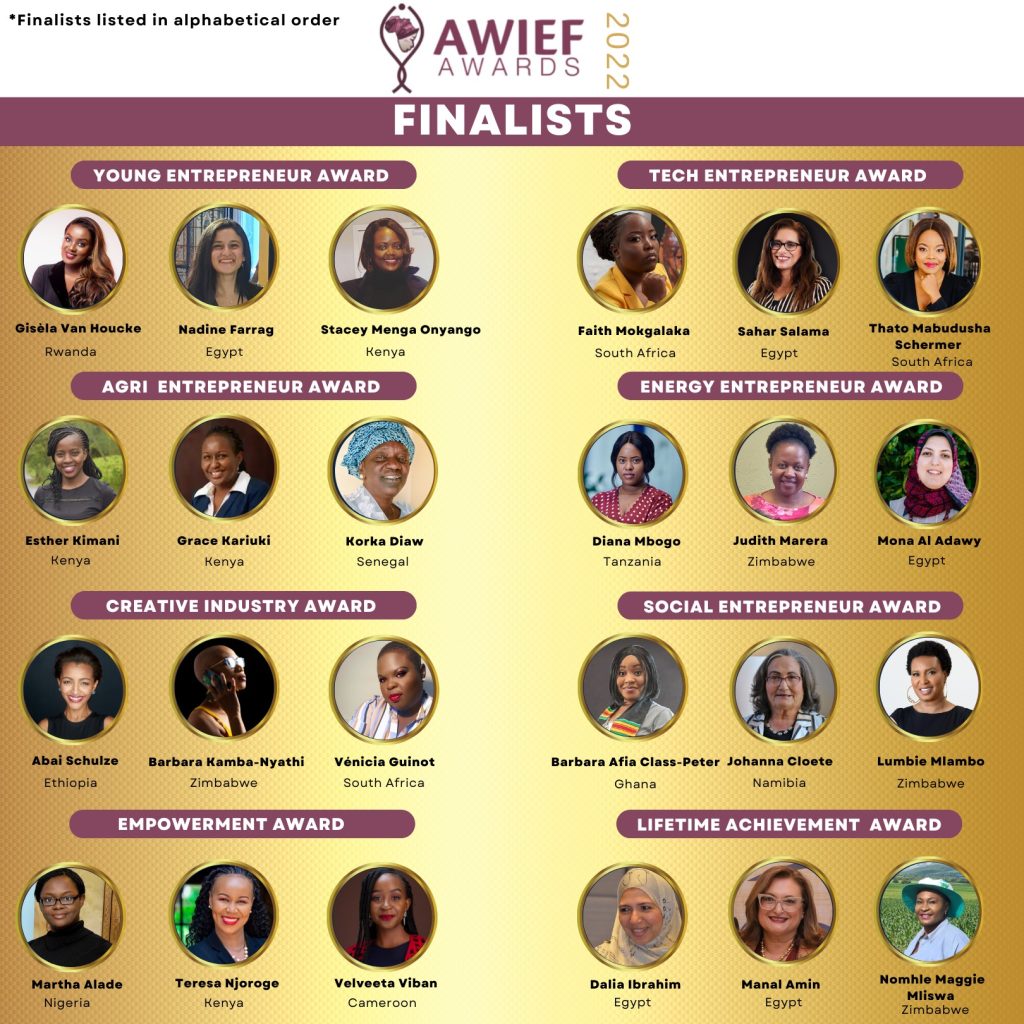 Parmi les finalistes figure la rédactrice en chef de TROPICS MAGAZINE, afro-optimiste, entrepreneure en série des médias, présidente du conseil d'administration du TROPICS GROUP OF COMPANIES, Vénicia Stelle Guinot, native de Brazzaville, en République du Congo et résidente de Johannesburg, en Afrique du Sud. Dès l'âge de 23 ans, elle se lance dans son parcours d'entrepreneuriat médiatique et fonde le conglomérat TROPICS GROUP OF COMPANIES avec près de 0 $. Douze ans plus tard, la société a réussi à diversifier son portefeuille et elle demeure le cerveau derrière des entreprises telles que Tropics Media Group, Tropics Magazine, Tropics Women in Business, Tropics Business Summit, African DOers, Tropics Invest & Co., Tropics Business Network, Tropics Mobile TV, et bien plus encore. Professionnelle bilingue et multimédia, entrepreneure primée à 7 reprises sur 3 continents, Vénicia Stelle Guinot est la rédactrice en chef de #TropicsMagazine qui est reconnu mondialement comme le premier magazine d'affaires et de lifestyle africain desservant une communauté croissante de plus de 500 000 abonnés aux éditions numériques et imprimés.
Véritable stratège, as de la communication institutionnelle, Vénicia Stelle Guinot se passionne pour le 'Nation Branding comme levier de développement du continent africain'. Elle prend un grand plaisir à conseiller des membres de gouvernements africains, des C-Suite Leaders, des Investisseurs et des Jeunes Leaders Emergents (tous secteurs et origines confondus), de Johannesburg à Washington DC en passant par le Luxembourg, et accélère ainsi leur stratégie pour atteindre leurs objectifs.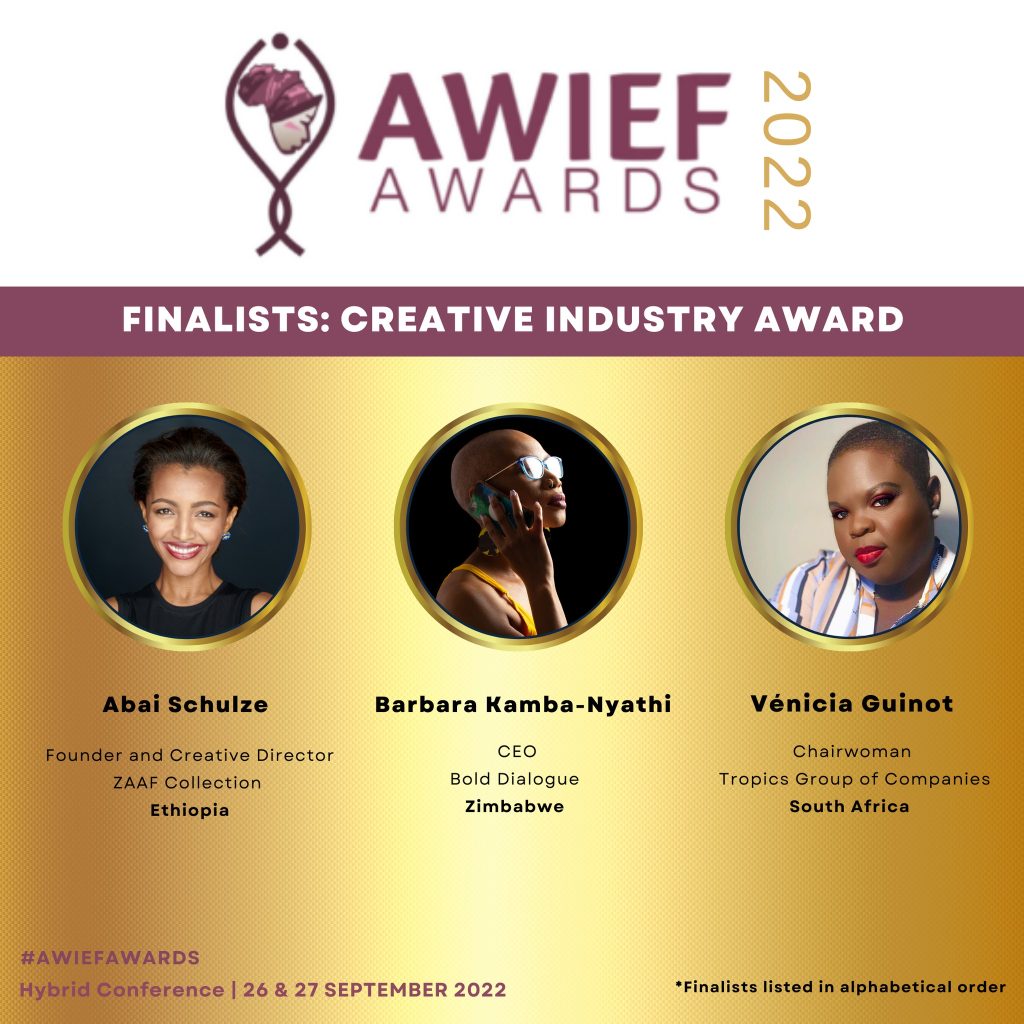 Veuillez trouver ci-joint la liste des finalistes des AWIEF Awards 2022 (par ordre alphabétique) :
PRIX JEUNE ENTREPRENEUR
Gisèla Van Houcke – Fondatrice et PDG, Zuri Luxury Hair and Beauty, RD Congo
Nadine Farrag – PDG et fondatrice, Farahy, Égypte
Stacey Menga Onyango – Directrice, Minkoti Agencies Limited, Kenya
PRIX DE L'ENTREPRENEUR TECH
Faith Mokgalaka – Fondatrice et PDG, Puno Greenery, Afrique du Sud
Sahar Salama – Fondatrice et PDG, TPAY Mobile, Égypte
Thato Mabudusha Schermer – Co-fondateur et PDG, Zoie Health Technologies, Afrique du Sud
PRIX AGRO ENTREPRENEUR
Esther Kimani – Fondatrice, Farmer Lifeline Technologies, Kenya
Korka Diaw – Présidente, Réseau des Agricultrices du Nord, Sénégal
Lesego Serolong – Fondateur et PDG, Bokamoso Impact Investments, Afrique du Sud
PRIX ENTREPRENEUR ÉNERGÉTIQUE
Diana Mbogo – Directrice générale, Millennium Engineers Enterprises Limited, Tanzanie
Judith Marera – Fondatrice et PDG, Lanforce Energy, Zimbabwe
Mona Al Adawy – Fondatrice et PDG, GeoEnergy Petroleum Services, Égypte
PRIX DE L'INDUSTRIE CRÉATIVE
Abai Schulze – Fondateur et directeur créatif, ZAAF Collection, Éthiopie
Barbara Kamba-Nyathi – PDG, Bold Dialogue, Zimbabwe
Vénicia Guinot – Présidente, Tropics Group of Companies, Afrique du Sud
PRIX ENTREPRENEURE SOCIALE
Barbara Afia Class-Peter – Fondatrice, Honour-Barbara Center for Speech, Ghana
Johanna Cloete – Directrice générale, GEN Namibie, Namibie
Lumbie Mlambo – Fondateur et PDG, JB Dondolo, Zimbabwe
PRIX DU LEADERSHIP FEMININ
Martha Alade – Fondatrice, Women in Technology in Nigeria (WITIN), Nigeria
Teresa Njoroge – Fondatrice et PDG, Clean Start Solution, Kenya
Velveeta Viban – Fondatrice et directrice exécutive, I'm Human Org, Cameroun
PRIX DE LA PERSONNALITE DE L'ANNEE
Dalia Ibrahim – PDG, Nahdet Misr Publishing House, Égypte
Manal Amin – PDG, Arabize, Égypte
Nomhle Maggie Mliswa – PDG, Summerhill Farms, Zimbabwe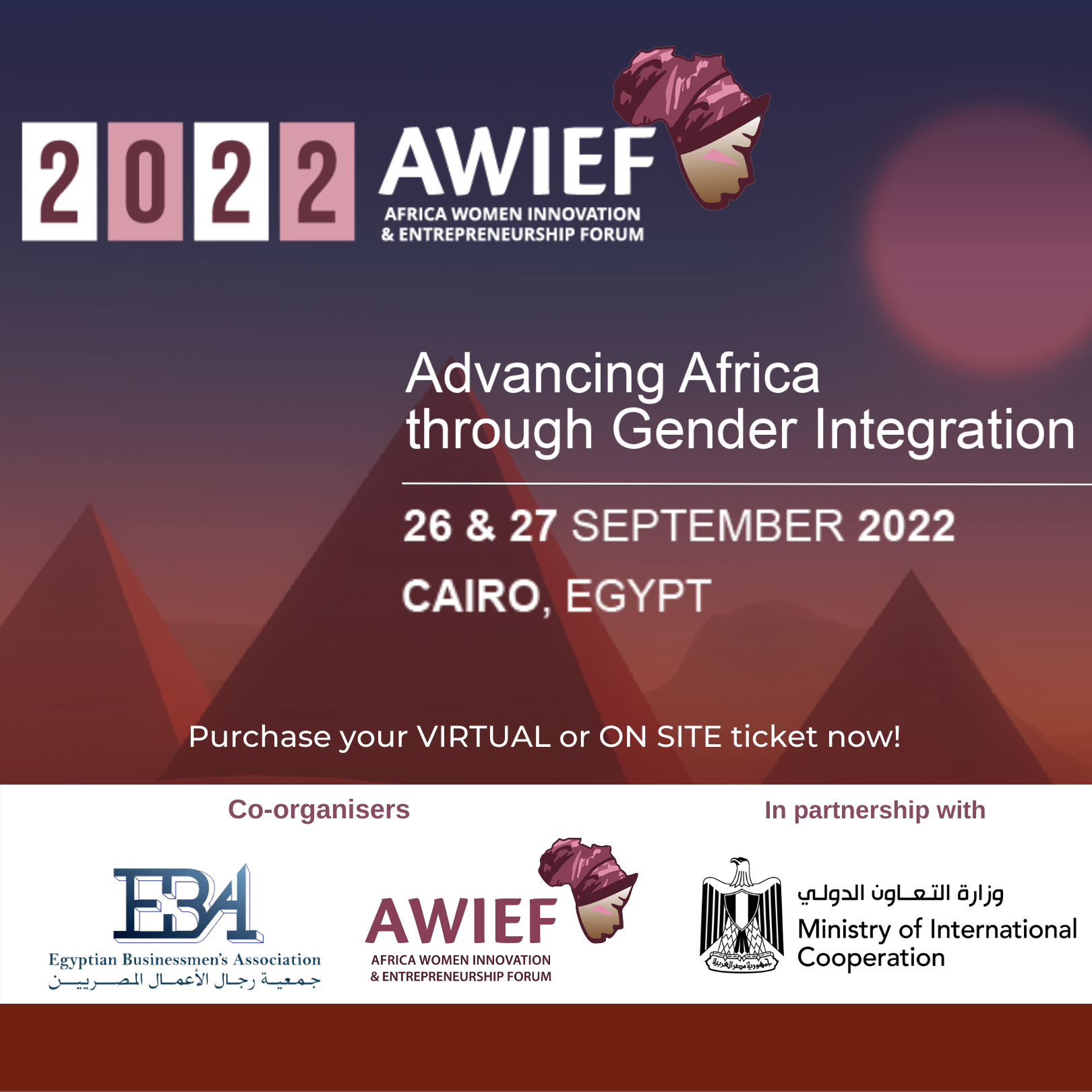 Félicitations aux heureuses finalistes et rendez-vous au Caire pour l'annonce finale!
Les billets à la conférence AWIEF2022 et aux AWIEF Awards (en personne au Caire ou virtuellement) sont disponibles en ligne sur : https://www.awieforum.org/awief-conference-2022/
Pour plus d'informations : info@awieforum.org