Johannesburg, SOUTH AFRICA (TROPICS VENTURES GROUP) — Son Excellence Madame Hawa Beavogui, Queen Diambi of the Congo, Virginie Mounanga, Nomsa Nteleko et Patricia Monthe ont en commun d'avoir révolutionné leurs secteurs d'activités respectifs. A la 5eme édition du TROPICS BUSINESS SUMMIT, elles interviendront en qualité de Marraines et partageront leurs expériences respectives avec les digi spectateurs, après une année marquée de challenges.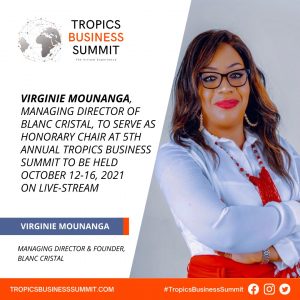 Le TROPICS BUSINESS SUMMIT est considéré comme l'un des événements annuels les plus importants d'Afrique du Sud rassemblant investisseurs africains et IDE. Ledit sommet est devenu l'un des canaux d'investissement les plus importants en Afrique et dans la diaspora. Avec le soutien de ses Parrains et Partenaires internationaux entièrement axés sur la stimulation du commerce intra africain et l'apport de partenaires d'investissement focalisés sur le continent africain, il est possible de combler le fossé financier qui perdure entre les marchés anglophones, francophones, lusophones, hispanophones et arabophones.
Parmi les Marraines de la 5ème édition du TROPICS BUSINESS SUMMIT, on compte Viriginie Mounanga, Directeur General de Blanc Cristal Expertise, une agence de communication gabonaise et panafricaine de conseil digital et communication.
Blanc Cristal a pris son virage numérique et peut désormais se prévaloir d'avoir une large vision de la communication: à a la fois stratégique et digitale. Entreprise spécialisée dans la communication institutionnelle, digitale ainsi que la gestion de projets, l'accompagnement de politique RSE et surtout la formation numérique à destination des jeunes et des femmes. L'agence déploie son expertise dans la conception de solutions numériques, mais aussi d'organisations de compétitions numériques dans les écoles grâce à son programme des classes culturelles numériques incluant la sensibilisation à la cybersécurité ainsi que la gestion d'événements numériques pour tous types d'organisations.
"L'incroyable énergie du TROPICS BUSINESS SUMMIT démontre à quel point notre continent regorge de talents: la révolution entrepreneuriale africaine ne demande qu'à partager de belles synergies autour de ce type d'événements porteurs."
Les inscriptions au TROPICS BUSINESS SUMMIT sont ouvertes via https://TropicsBusinessSummit.com ou via https://facebook.com/TropicsBusinessSummit. Suivez nos hashtags officiels sur les réseaux sociaux #TropicsBusinessSummit #TropicsSummit et #TropicsSummitFromHome pour ne manquer aucune actualité.