Entrepreneurs have until September 2, 2021 to apply for this new Call for Projects dedicated to SMEs/SMMEs in Africa and the Caribbean organized in anticipation of the 5th Annual TROPICS BUSINESS SUMMIT (TBS). The scale program targets Startups founders to drive social impact and sustainable growth.
The Tropics Startups Incubator-Accelerator: A New Incubation Model Tailored for African and Caribbean Startups
The new Tropics Startups Incubator-Accelerator offers an innovative support model for CEOs of SMEs / SMMEs based in Africa, as well as in the Diaspora, in order to lead them to the development of their project, by offering a range of services adapted to their stage of maturity, from pre-start up to the internationalization of their activities.
We are looking for established, early-stage African-Caribbean Startups to join our Tropics family. We will work together to scale your business, offer access to infrastructure, extra tools and networks in/outside the African continent.
The Objectives of the Tropics Startups Incubator-Accelerator by TROPICS BUSINESS SUMMIT
Find out how we can help you better structure yourself and support the growth of your business into three key steps:
Learn: Our training programs are focused on digitization. The Tropics Startups Incubator offers two types of tailor-made support, either 1/ the virtual Tropics Startup Pitch Competition dedicated to incubating early-stage African and Caribbean SMEs/SMMEs and, 2/ the virtual acceleration program Tropics Women in Business (TWiB) which seeks to boost the rate of women-led ventures in Africa and the Caribbean;
Accelerate: Whether it is to start your project on the right foot, accelerate the marketing of your products and services or plan the expansion of your business to new emerging markets, we walk by your side to accomplish these goals;
Connect: Boost the African and Caribbean entrepreneurial ecosystem and promote networking between all stakeholders and strategic partners in Africa and the Caribbean. In this sense, the Tropics Startups Incubator-Accelerator becomes a focal point for all project founders as well as financial partners interested in accelerating Small Businesses in Francophone, Anglophone, Lusophone, Hispanophone and Arabophone countries.
The mission of the Tropics Startups Incubator-Accelerator is to support a first promotion of 20 leaders, over a period of 12 months, to either create their business or scale their existing model.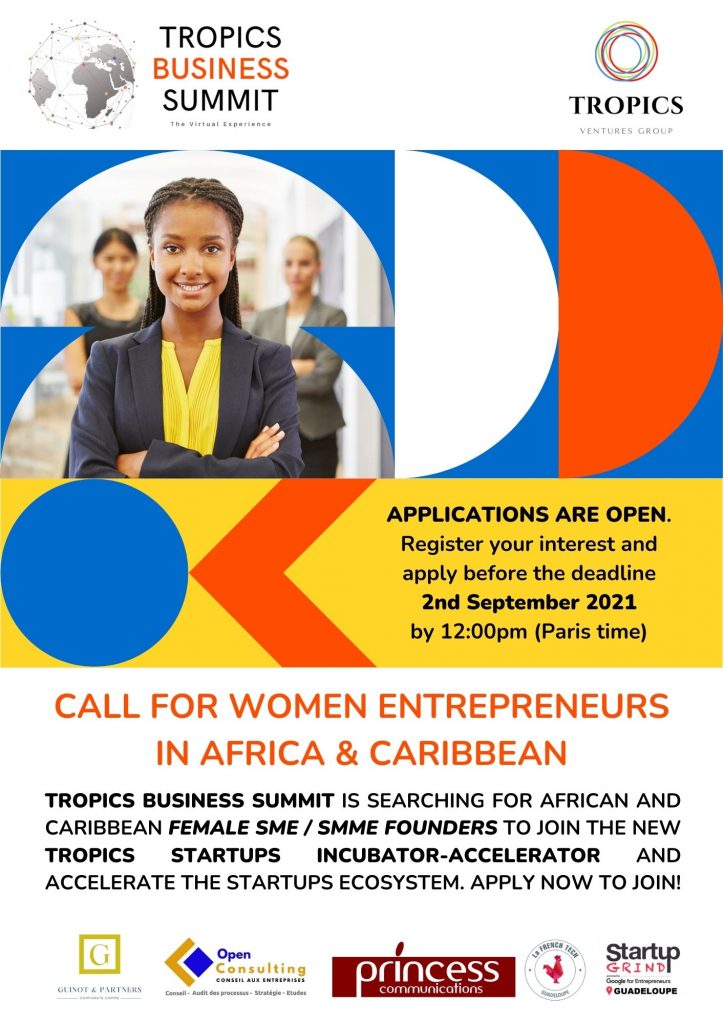 The Key Business Sectors of the Tropics Startups Incubator-Accelerator
The Tropics Startups Incubator-Accelerator focuses on a wide range of business sectors essential to the African and Caribbean economies:
Agribusiness, Agri-Tech and Agri-Food
Education and EdTech
Renewable Energies
FinTech and BlockChain
Health and Infrastructures
Environment and Green Economy
Tourism and e-Sports
Construction, Design and Architecture
Girls and Women Leadership
Digital Media and Marketing
Technology and STEM
Creative Industries (Arts, Beauty, Fashion, Culture, Gaming, Entertainment etc.)
Our incubation and acceleration formats include individual coaching, networking with experts in your field of expertise, working sessions with other company founders and finally, participation in the annual TROPICS BUSINESS SUMMIT with access to the Tropics Dealroom.
The Added Value that the Tropics Startups Incubator-Accelerator Brings to SMEs
The Tropics Startups Incubator-Accelerator helps you progress in the following areas:
Business structuring: go from the ideation stage to a proper business structuration;
Commercial techniques: marketing, prospecting, sales, customers loyalty, communication;
Accounting and legal compliance;
Facilitate funding rounds with public and private sectors partners;
Project management and teamwork;
Building a business network beyond borders;
Financial growth strategy etc.
Eligibility Criteria, Terms and Conditions
The two flagship programs of the Tropics Startups Incubator-Accelerator are aimed at two main niches: The Tropics Startups Pitch Competition aimed at early-stage Startups (0-5 + years), and the Tropics Women in Business (TWIB) Pitch Competition aimed at women CEOs and female-led initiatives with high economic potential for Africa and the Caribbean with at least 12 months of existence at the time of the application;
Be ready to undertake serious business in Africa or the Caribbean;
Business founders should be skilled and capable to lead teams to success;
Strong growth potential and market size;
Degree of disruption and quality of innovation
Scalability of the business offer
Societal and/or environmental impact
Job creation potential in the region
The Costs Associated with the Tropics Startups Incubator-Accelerator
The business model of the Tropics Startups Incubator-Accelerator is based on the 'pay-it-forward' principle, which means your admission into the incubation programs is free of charge to the applicant. In exchange, the Tropics Startups Incubator-Accelerator will take equity stake in the company:
Free incubation support for African and Caribbean entrepreneurs (worth 2,000 euros sponsored by a partner of the Tropics Startups Incubator)
5% equity stake for an investment of $ 12,500
10% equity stake for an investment of $ 25,000
15% equity stake for a $ 35,000 investment
Call for Proposals and Deadlines
Deadline for submitting applications: September 2, 2021 at 11:59 p.m. (Jo'burg/Paris time). Kindly download the submission form online here;
Project leaders must submit a pitch deck or a business plan, a professional biography or a CV, a professional portrait picture, 3 photos of their products (if applicable);
Applications should be submitted online at hello@tropicsbusinesssummit.com cc tropicssummit2021@gmail.com ;
Incomplete applications will not be considered.
The Anchor Partners of the Tropics Startups Incubator-Accelerator
New corporate partners that join the consortium as sponsors and strategic partners would provide further benefits to African and Caribbean Startups through industry expertise, access to markets, executive mentorship, commercial contracts and more. The Startups will be selected from thousands of applicants representing 80+ countries in the African and Caribbean regions. Most of our alumni will still operate and grow, while others will embark on their investment rounds.
Limitation of Liability
The act of submitting your application in response to this Call for Projects in no way prejudges the decision which will be taken subsequently after the complete study of each application, namely the selection or not of your admission to the Tropics Startups Incubator-Accelerator.
Join us today to accelerate the African and Caribbean startups ecosystem!