Roundtable Discussion to Focus on Maximizing Women's Economic Leadership Participation and Impact in the Intra Africa Trade Arena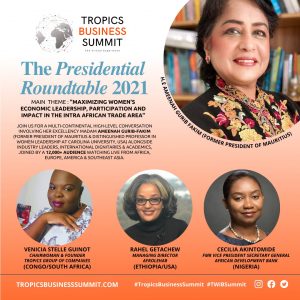 Johannesburg, South Africa (September 24, 2021) – The Tropics Business Summit inaugurates its first Presidential RoundTable featuring Her excellency former President Ameenah Gurib-Fakim during the Tropics Women in Business (TWiB) Forum on October 15, 2021 (Day 4) of the five-day 2021TropicsBusiness Summit.

The theme, Maximizing Women's Economic, Leadership, Participation and Impact in the Intra Africa Trade Arena will bring together a group of prominent African women from various sectors. The purpose of the roundtable discussion is to bring together leaders from diverse women's civic, social, and service organizations throughout Africa and its diaspora and its purpose is to exchange ideas, enhance leadership skills and cultivate opportunities to build collaborations.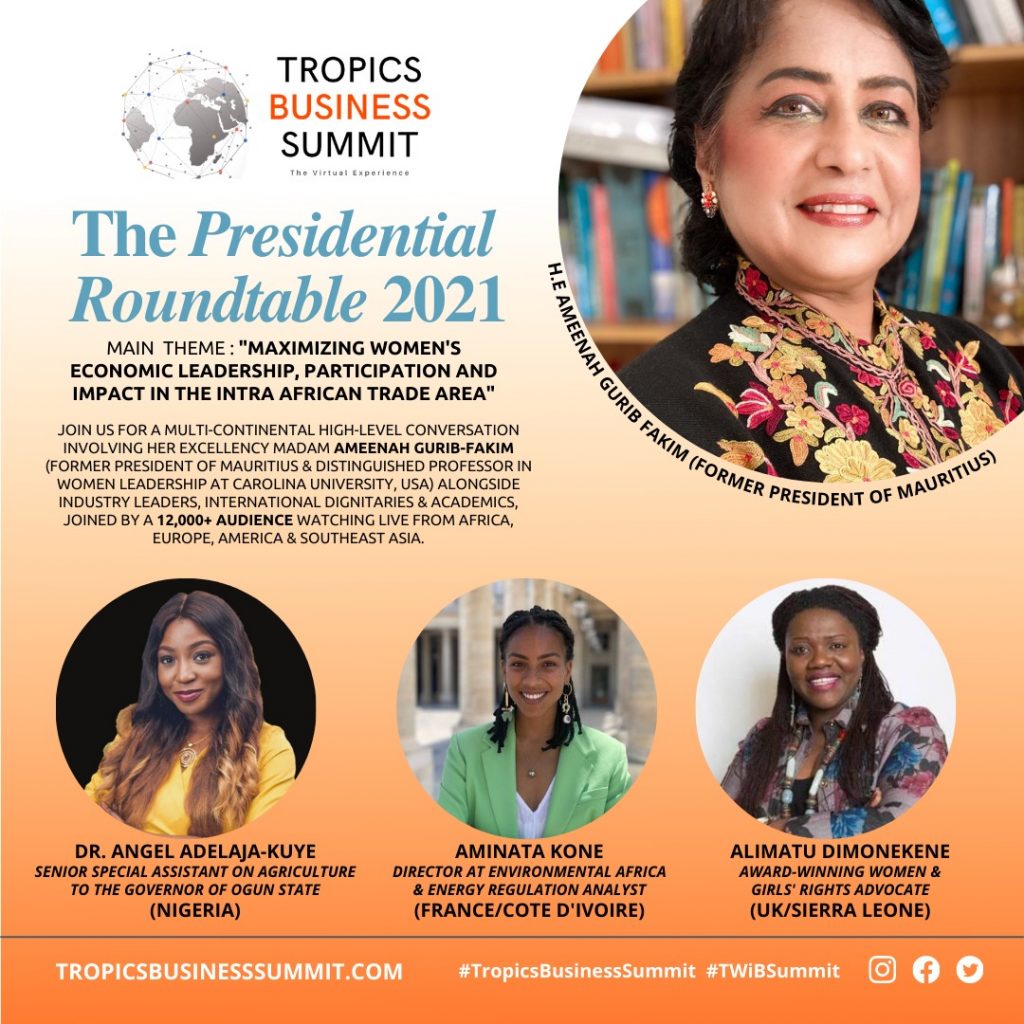 Joining President Gurib-Fakim is a group of brilliant, dynamic and powerful women from various sectors, which include, Venicia Guinot, Executive Chair, Tropics Group; Dr. Angel Adelaja-Kuye, Senior Special Assistant on Agriculture to the Governor of Ogun State, Nigeria; Modupe Adeyinka-Oni, Founder, Superintendent Standard Bearers School; Cecilia Akintomide, Former Vice President Secretary General, African Development Bank (AfDB); Alimatu Dimonekene,Award-Winning Women & Girl's Rights Advocate; Rahel Getachew, Managing Director, Afrolehar; Aminata Kone, Director at
Environmental Africa & Energy Regulation Analyst; Nomsa Nteleko, CEO & Founder OS Holdings; and Joyce Williams, Managing Attorney & Founder, Law Firm of Armooh-Williams, PLLC.

"Be fearless, follow your passion and never be an apologist because success is measured by the number of times that you stand up after falling down," says Ameenah Gurib-Fakim, 6th President of the Republicof Mauritius.

Venicia Guinot, Chairwoman and Executive Chair and Founder of Tropics Business Summit says, "We are excited to have Her Excellency President Gurib-Fakim with us for our first Presidential Roundtable. This event will bring together women leaders who are leading by example, making an indelible mark in their various areas of expertise, and paving the way for the next generation of female leaders who will take their place in reshaping and making a global impact. The purpose of the roundtable is to bring inspiring women leaders together to share their experiences and engage in and produce cutting-edge, high-level conversation and policy discussions about the continent with African heads of state, diplomats, industry leaders, international dignitaries, and academics."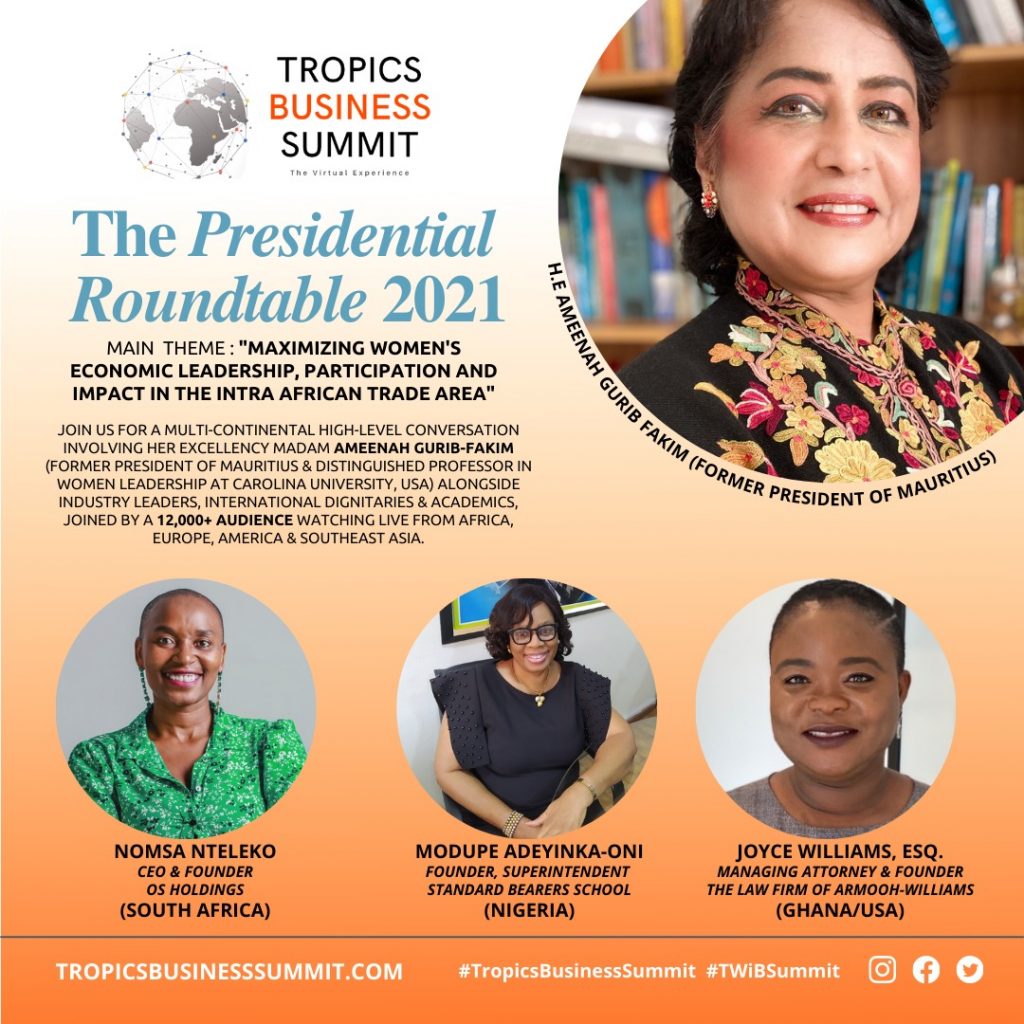 Tropics Business Summit (TBS) is an action and results-oriented business forum connecting 54 African countries to the rest of the world. The Summit takes place yearly in the month of October as a global, livestream event. It is a deal-making marketplace, where the summit organizers, along with their global partners, position the African continent as a key investment destination, forge new synergies and structure new deals that will help close the funding gap between Anglophone, Francophone, Lusophone and Arabophone markets. Businesses benefit from the opportunity to talk with representatives from Small and Medium Enterprises (SMEs), corporations, investors, incubators, business accelerators, trade commissioners, and more, receiving advice on market development and access to foreign emerging markets.

Register to watch the TROPICS BUSINESS SUMMIT at home or from work, free on the web; global viewers need to register at hello@tropicsbusinesssummit.com to book their virtual seats in advance. Alternatively, you can register at Eventbrite to TROPICS BUSINESS SUMMIT 2021