Praia, Cap-Vert, 24 août 2022 – Tropics Business Summit (TBS) et The African Football Club ont formé un partenariat pour développer l'industrie africaine du sport en utilisant le football comme catalyseur de croissance et de développement en Afrique. Le partenariat sera scellé lors du prochain Tropics Business Summit qui se tiendra à Praia, République de Cabo Verde, du 10 au 15 octobre 2022.
Le sport a non seulement évolué au-delà de la simple activité physique à suivre, mais est devenu une industrie majeure avec des contributions importantes à la croissance nationale, au développement et aux perspectives d'emploi des pays. Ce partenariat examinera l'impact du sport dans le but de nourrir les talents africains et de faire participer les Africains pour qu'ils apportent leur expertise et amènent l'industrie à un autre niveau.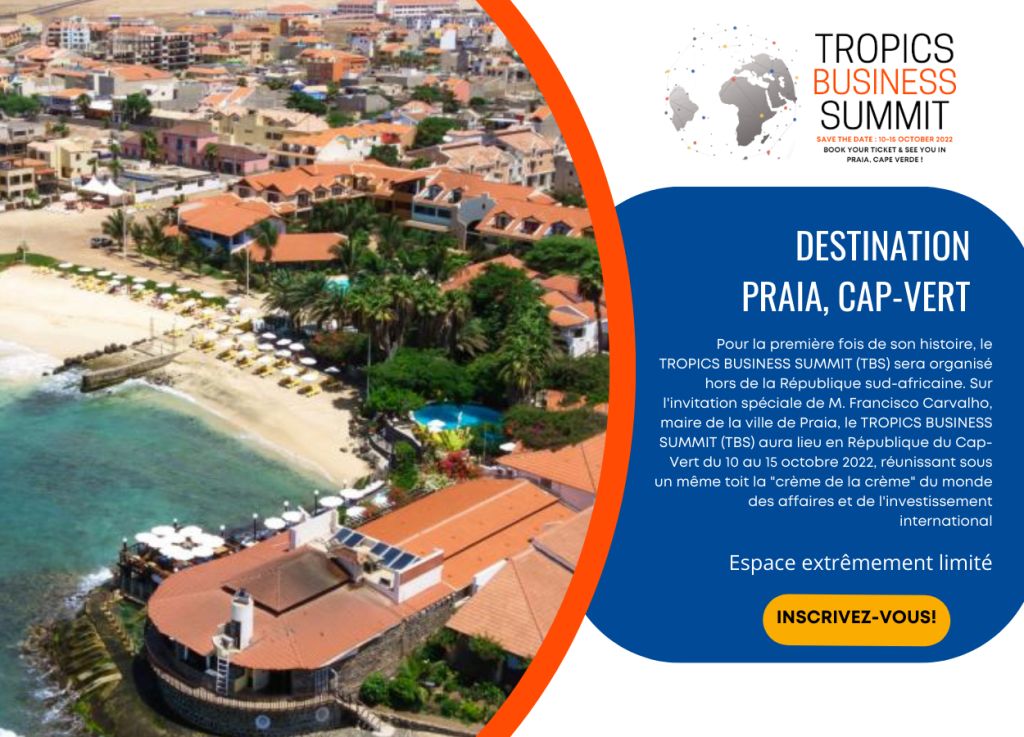 Pendant le Sommet, le premier Tropics Creative Industries Showcase aura lieu, et l'ordre du jour sera organisé autour de 13 grands thèmes qui intégreront toutes les composantes du secteur des industries créatives, y compris des tables rondes qui se concentreront sur le sport. Le Tropics Creative Industries Showcase sera une initiative conjointe entre Tropics Business Summit et le gouvernement de la République de Cabo Verde. Dans le même ordre d'idées, The African Football Club s'associe au Tropics Business Summit afin de faire connaître l'événement à venir et de positionner les acteurs de l'écosystème sportif africain pour qu'ils s'engagent à adopter la vision d'amener l'industrie du sport africain à un autre niveau – une industrie qui a besoin d'investissements sérieux.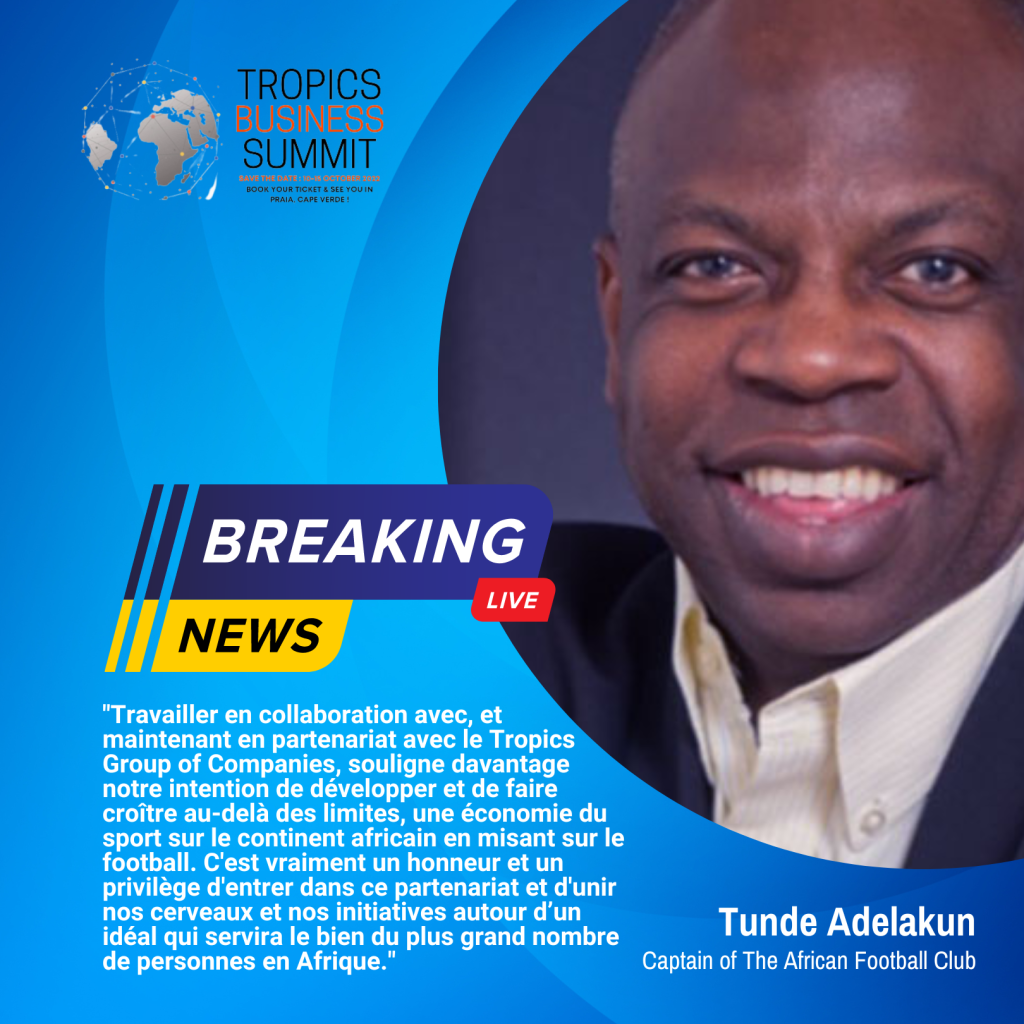 Ayotunde ('Tunde) Adelakun, président du groupe TuchéSport et capitaine du football africain, est impliqué dans la plupart des aspects du football depuis plus de 30 ans. "Tunde est un professionnel chevronné qui croit fermement que le football a la propension à changer des vies et à servir d'outil de croissance et de développement socio-économique. Toute sa vie a été centrée sur le football où certaines de ses plus grandes réalisations incluent son poste d'entraîneur-chef adjoint et de chef des opérations de dépistage pour l'équipe nationale de football nigériane qui s'est qualifiée pour la Coupe du monde 2018 en Russie et a remporté la médaille de bronze. à la Coupe d'Afrique des Nations 2019. Il a été coordinateur des relations internationales pour l'Afrique pour l'Association anglaise de football et directeur de campagne pour la candidature de l'Angleterre à la Coupe du monde 2018. Il a été directeur du Musée du football africain à la Confédération africaine de football (CAF) et membre de la commission des médias de la CAF. Il est également fondateur et président de l'Association africaine des scouts et des entraîneurs de football et président du Temple de la renommée du football africain. C'est son expérience et son expertise qui ont donné naissance à son implication avec le SCT."
L'Africa Football Club dispose d'une vaste liste de personnalités sportives et d'un réseau de contacts dans et hors de l'industrie du sport. On espère que le Sommet pourra être utilisé comme une plate-forme pour attirer les légendes du football compte tenu de leurs importants suivis sur les réseaux sociaux et de leurs affiliations à des marques d'entreprise, qui peuvent tous augmenter les affaires et les investissements au profit de l'industrie du sport en Afrique.
"Travailler en collaboration avec, et maintenant en partenariat avec le Tropics Group of Companies, souligne davantage notre intention de développer et de faire croître au-delà des limites, une économie du sport sur le continent africain en misant sur le football. C'est vraiment un honneur et un privilège d'entrer dans ce partenariat et d'unir nos cerveaux et nos initiatives autour d'un idéal qui servira le bien du plus grand nombre de personnes en Afrique. Notre objectif est de faire en sorte que les gens prennent conscience de ce que représente l'Afrique de façon positive; et nous nous alignons sur la vision du Tropics Group qui reflète les mêmes objectifs dans le milieu des affaires. Il s'agit de synergies tangibles au prochain sommet, et nous sommes enthousiasmés par les perspectives que celle-ci offre à l'avenir" , a déclaré 'Tunde Adelakun, capitaine de l'African Football Club.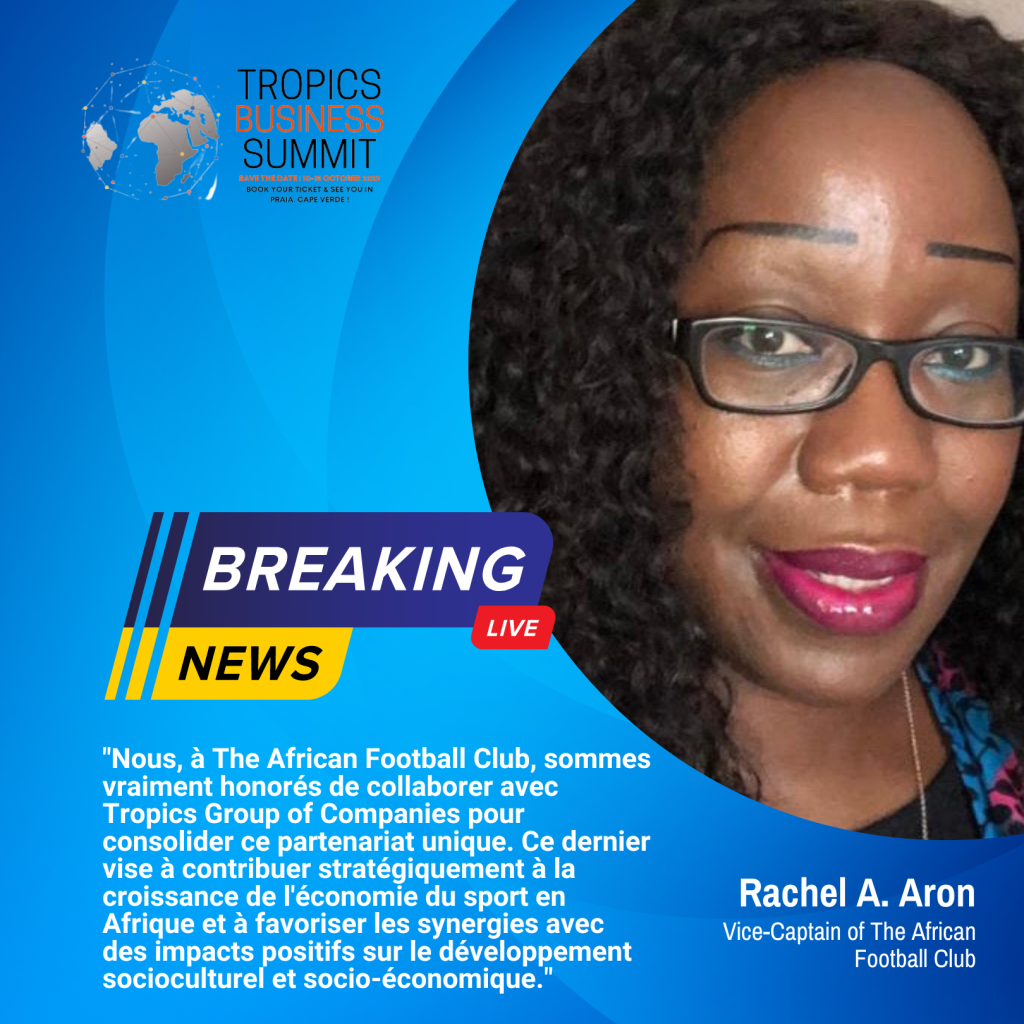 Rachel A. Aron, vice-capitaine de The African Football Club et conseillère chevronnée en matière de développement social et ESG, déclare : "Nous, à The African Football Club, sommes vraiment honorés de collaborer avec Tropics Group of Companies pour consolider ce partenariat unique. Ce dernier vise à contribuer stratégiquement à la croissance de l'économie du sport en Afrique et à favoriser les synergies avec des impacts positifs sur le développement socioculturel et socio-économique."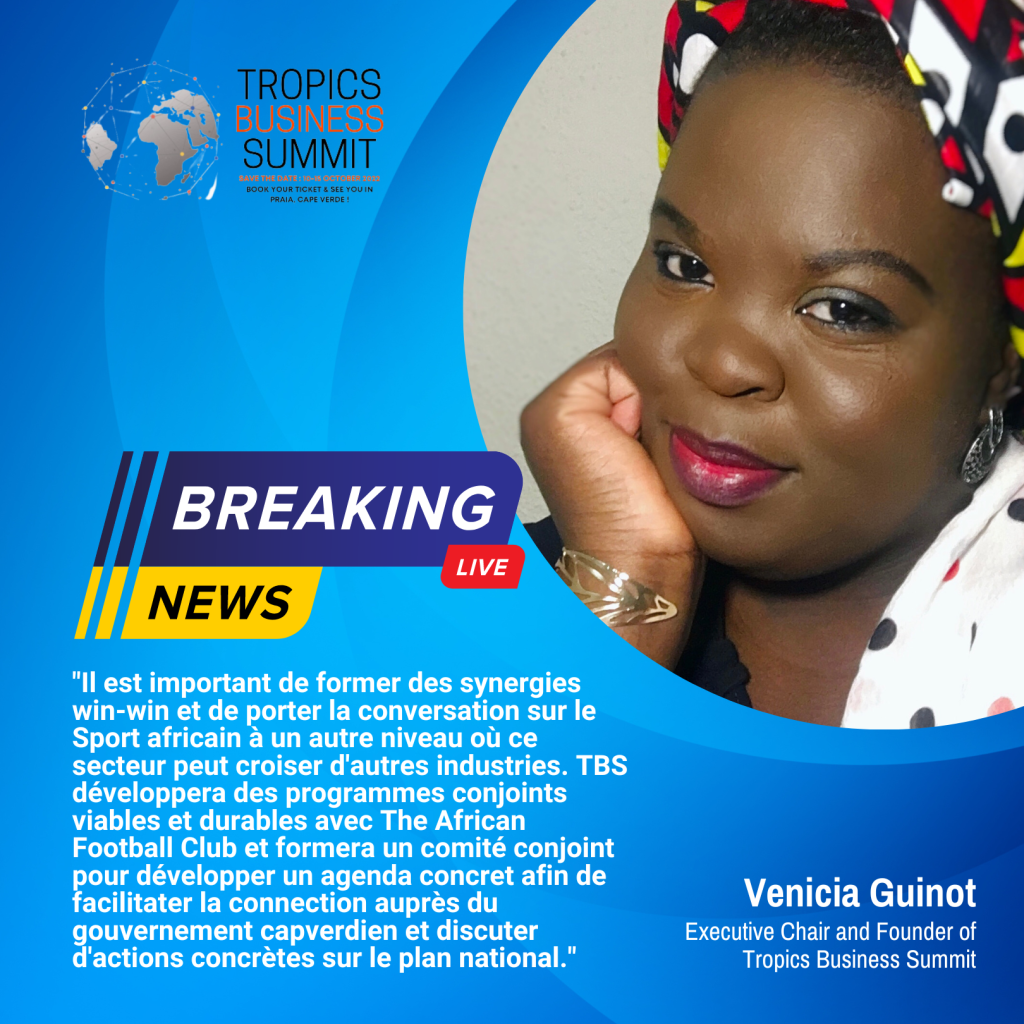 Les deux entités cultiveront des synergies à travers l'industrie du Sport en utilisant comme plateforme le Tropics Business Summit (TBS) 2022 qui se tiendra cette année au Cap-Vert. Vénicia Guinot, présidente exécutive et fondatrice de Tropics Business Summit, a déclaré : "L'implication de The African Football Club contribuera à faire avancer un programme sportif stratégique, mais s'alignera également sur les investissements. Nous souhaitons renforcer l'impact et l'importance de la filière sportive panafricaine en tant que catalyseur de développement et, par conséquent, nous devons nous aligner en tant qu'organisation avec des professionnels dudit secteur afin de bénéficier pleinement de leur expertise et leur savoir-faire. Il est important de former des synergies win-win et de porter la conversation sur le Sport africain à un autre niveau où ce secteur peut croiser d'autres industries. TBS développera des programmes conjoints viables et durables avec The African Football Club et formera un comité conjoint pour développer un agenda concret. TBS jouera le rôle de facilitateur auprès du gouvernement capverdien pour discuter d'actions concrètes sur le plan national. Enfin, le mandat de TBS est de positionner l'Afrique comme une destination d'investissement de premier plan, et nous voulons aller au-delà du secteur d'activité principal et étudier l'impact de l'industrie du Sport et d'autres Industries Créatives qui peuvent jouir de plus de visibilité à l'international."
À propos du Club Africain de Football
The African Football Club a été créé pour répondre et élever les intérêts généraux du football africain et plus particulièrement hors du terrain de jeu. The African Football Club a pour objectif de mettre en valeur le continent africain au travers de ses atouts dans le football et de faciliter l'accès à ceux qui souhaitent s'identifier au continent africain. The African Football Club dispose d'un vaste réseau de parties prenantes à travers l'Afrique, l'Europe, l'Amérique du Nord et le Moyen-Orient et ladite institution fait partie de New African Soccer Limited, qui est basé au Royaume-Uni. New African Soccer Limited a développé des projets uniques, tels que Big Circle Africa, le Temple de la renommée du football africain et Pride of Africa.
À propos du Tropic Business Summit
Le Tropics Business Summit est considéré comme l'un des événements annuels les plus importants d'Afrique du Sud réunissant des investisseurs africains et des investissements étrangers directs. Le Sommet est devenu l'un des canaux d'investissement les plus importants en Afrique et dans toute la diaspora. Avec le soutien de sponsors et de partenaires internationaux, entièrement axés sur la stimulation du commerce intra-africain et l'apport de partenaires d'investissement axés sur le continent africain, le fossé financier persistant entre les marchés anglophone, français, portugais, espagnol et arabophone peut être comblé.
###
Pour plus d'informations, veuillez contacter media@tropicsbusinesssummit.com cc hello@tropicssummit.com