Tropics Group of Companies, Municipality of Praia Cabo Verde and Chamber of Commerce Luxembourg – Cape Verde (CCLCV) Co-Partner to Attract Global Investors, Traders, Industry Experts, Entrepreneurs to the Country
Johannesburg, South Africa (January 18, 2022) – The Tropics Group of Companies presents its 6th Annual TROPICS BUSINESS SUMMIT (TBS) which will take place as a hybrid event from October 10-15, 2022, in Praia, Cabo verde in collaboration with the Government of Cabo Verde and the Luxembourg – Cape Verde Chamber of Commerce (CCLCV). The theme, "Towards a win-win Partnership to boost an inclusive economic dynamic," will focus on key sectors for pan-African economies offering opportunities for investors in Financial Services and Capital Investment, Industry Services, Health and Infrastructure Development, Energy, Agriculture, Consumer Products (FMCG), Sustainable Tourism, Telecommunications and Technology, Smart Cities and Tokenized Real Estate, Transportation and Logistics, Education, Manufacturing, Environment , etc.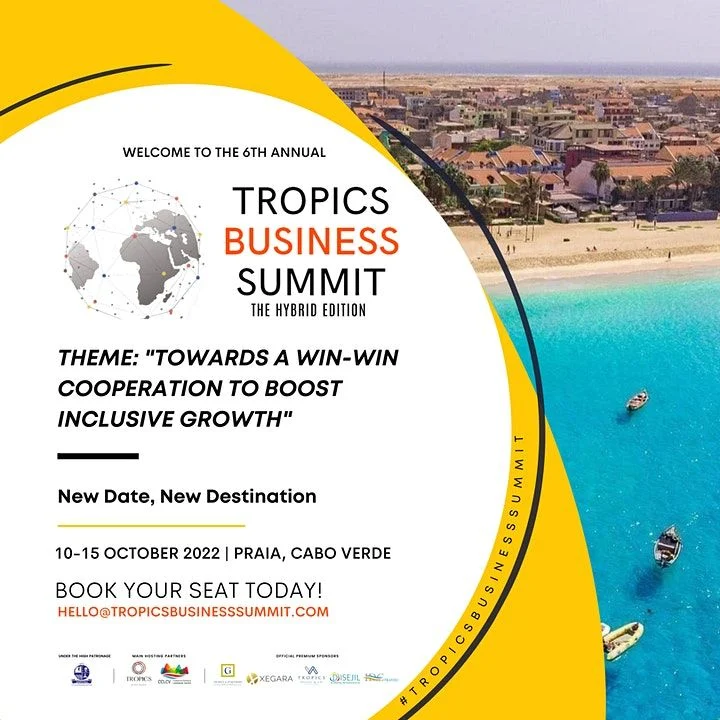 The Opening Ceremony will be held at the Parliament better known as the Palacio da Assembleia Nacional and the conference will be held at the newly built, state of the art, public institution, University of Cape Verde (novo campus).
Mr. Francisco Carvalho, President of the Praia City Council, Cabo Verde expressed his excitement about the cooperation with TROPICS BUSINESS SUMMIT (TBS) and has endorsed the event by saying, "Our Municipality is looking forward to fostering this partnership and working together to create all the desirable conditions to guarantee the success of the event and position Cabo Verde as a leading investment destination beyond its experience in hosting world-class tourism and tech events."
Cabo Verde, a country located in West Africa, is very accessible to Latin America, the Canary Islands and other parts of Africa. It is at the top investment hotspot of the world and is currently undergoing development infrastructure in its tourism industry to establish the country as a top international holiday destination. Praia, the economic, political, and cultural center of Cape Verde, is known as the archipelago's capital as well as the economic hub and the most culturally diverse place in Cabo Verde with international influences and a rich African heritage. It also serves as a transport hub, where taxis and buses await to take passengers to other parts of the city.
Mr. Lino Varela, President of the Chamber of Commerce Luxembourg – Cape Verde (CCLCV) says, "We are happy to welcome delegates of the TROPICS BUSINESS SUMMIT (TBS) to Praia, Cape Verde to show the richness of the country and its diverse culture. We look forward to engaging discussions on investments, bilateral and multilateral cooperation with the TROPICS BUSINESS SUMMIT." Varela has endorsed the efforts of the Tropics Group of Companies which will showcase exhibitors from all continents at the Tropics Intra-African Trade Expo as well as facilitate Business-to-Business (B2B) and Government-to-Business (G2B) connections to present tangible opportunities for investments, highlight market analysis and prospects, and underscore vital government trade policies in Cape Verde and beyond.
This six-day event will attract a multicultural community of investors seeking new markets' opportunities, governments seeking to attract new investment, entrepreneurs/startups seeking capital investment or new ecosystems to help them thrive. It is the most important investment platform par-excellence for Public-Private Cooperation including scaling entrepreneurial innovation on the continent. The Summit engages a cross section of world class leaders, key global policy and decision makers, government officials, international investors, bridging the finding gap to and striving for sustainability to create more impact across Africa and beyond. The TROPICS BUSINESS SUMMIT (TBS) provides a great opportunity to facilitate the advancement of Trade and Investment between all 54 African countries and the rest of the world by presenting industry-specific information, trends, and updates, highlighting opportunities for investment, and fostering networking between businesses and investors. The Summit is where strategic and deal-making gatherings of startup business angels, venture capital and innovation leaders from Africa, the Caribbean and around the globe meet.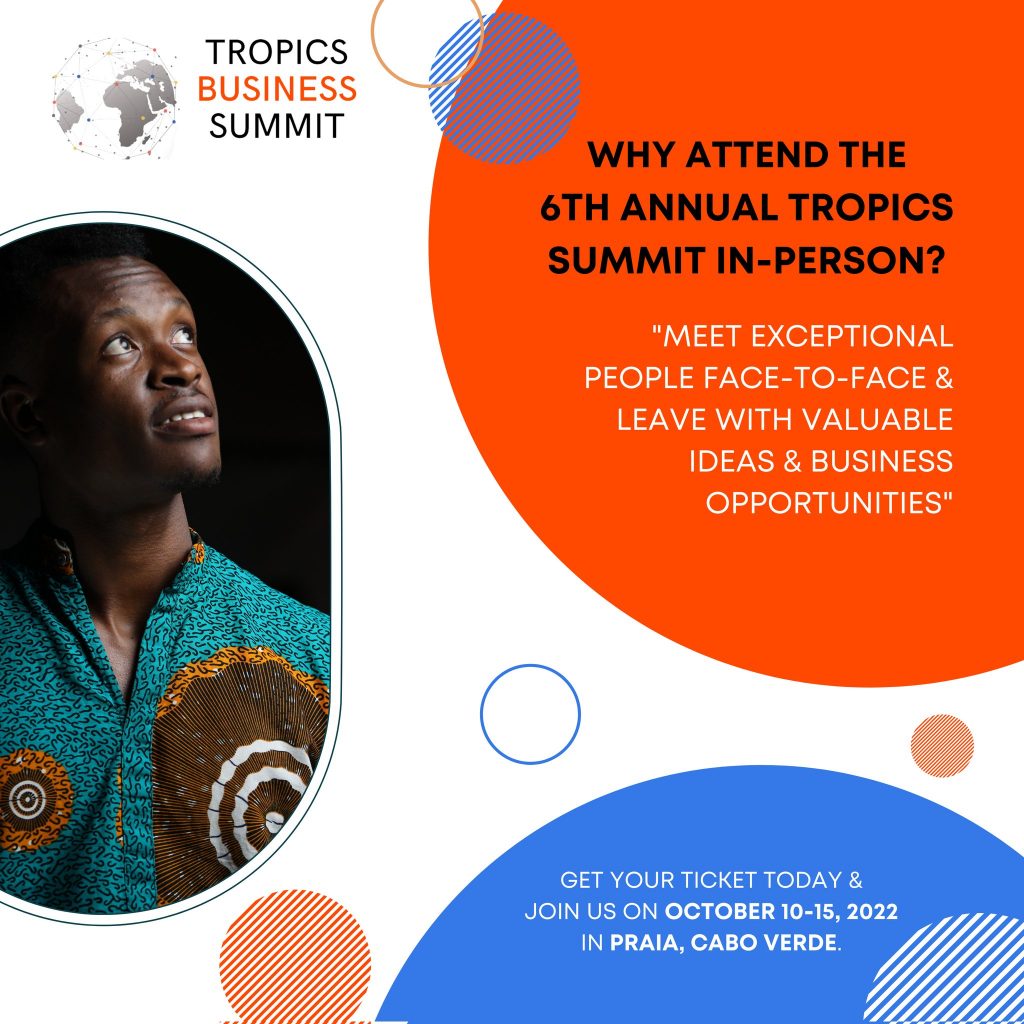 Ms. Venicia Stelle Guinot, Executive Chair and Founder of TROPICS BUSINESS SUMMIT (TBS) says, "We are pleased to accept the official invitation by the Praia Municipality to host the next three summits in the city of Praia, Cabo Verde and brand it as our official "Host City" of the Summit from 2022 to 2024. It is our aim to enhance Cabo Verde as a top investment destination, after five consecutive years in South Africa, and as a key partner for foreign direct investment as well as a digital hub in Africa. This is also a golden opportunity for Cabo Verde to focus on improving its business environment and, most importantly its services industry, to provide smoother trade, investment and space for entrepreneurial youth and investors." Hosting the Summit in Praia will allow the world to discover Cabo Verde on another business and investment level.
The TROPICS BUSINESS SUMMIT (TBS) will feature more than 250 speakers and panelists from across the globe and accommodate 500 international, multilingual delegates (in compliance with Covid-19 restrictions) looking to create synergies and close deals. This digital and in-person format, which will be hosted in English, French and Portuguese, will offer innovative content and feature 100+ sessions, deal rooms for matchmaking, Intra-African marketplace and international country pavilions, service providers, and a robust networking platform where Anglophone, Francophone, Lusophone, Hispanophone and Arabophone participants can make the connections they need to push their investments forward.
Tropics Business Summit (TBS) is an action and results-oriented business forum connecting 54 African countries to the rest of the world. The Summit takes place yearly in the month of October as a global, livestream event. It is a deal-making marketplace, where the summit organizers, along with their global partners, position the African continent as a key investment destination, forge new synergies and structure new deals that will help close the funding gap between Anglophone, Francophone, Lusophone and Arabophone markets. Businesses benefit from the opportunity to talk with representatives from Small and Medium Enterprises (SMEs), corporations, investors, incubators, business accelerators, trade commissioners, and more, receiving advice on market development and access to foreign emerging markets.
Register to attend the TROPICS BUSINESS SUMMIT in Praia, Cabo Verde; global viewers need to register at hello@tropicsbusinesssummit.com cc tropicsbuisnessevents@gmail.com to book your seats on time. Alternatively, you can register at Eventbrite at TROPICS BUSINESS SUMMIT 2022
Copyright TROPICS MEDIA GROUP s/c TROPICS GROUP OF COMPANIES, All Rights Reserved.