Johannesburg, South Africa (8 Octobre, 2021) — Son Excellence Madame Hawa Beavogui, Queen Diambi Kabatusuila of the Congo, Nomsa Nteleko, Patricia Monthe et Virginie Mounanga ont en commun d'avoir révolutionné leurs secteurs d'activités respectifs. A la 5eme édition du TROPICS BUSINESS SUMMIT, elles interviendront en qualité de Marraines et partageront leurs expériences respectives avec les digi spectateurs, après une année marquée de challenges.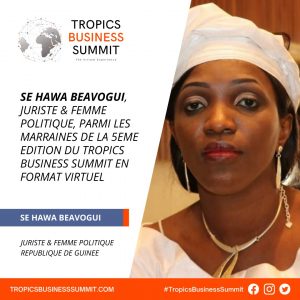 Le TROPICS BUSINESS SUMMIT est considéré comme l'un des événements annuels les plus importants d'Afrique du Sud rassemblant investisseurs africains et IDE. Ledit sommet est devenu l'un des canaux d'investissement les plus importants en Afrique et dans la diaspora. Avec le soutien de ses Parrains et Partenaires internationaux entièrement axés sur la stimulation du commerce intra africain et l'apport de partenaires d'investissement focalisés sur le continent africain, il est possible de combler le fossé financier qui perdure entre les marchés anglophones, francophones, lusophones, hispanophones et arabophones.
Parmi les Marraines de la 5ème édition du TROPICS BUSINESS SUMMIT, on compte Son Excellence Madame Hawa Beavogui, Juriste et Femme Politique Guineenne. Elle a été Ministre des droits et de l'autonomisation des femmes à la suite d'un poste comme conseillère juridique au Ministère de la Santé de son pays.
"Le TROPICS BUSINESS SUMMIT est une opportunité en or pour la jeunesse et les femmes. Il est fondamental de renforcer sa visibilité dans l'intérêt exclusif desdites couches."
Les inscriptions au TROPICS BUSINESS SUMMIT sont ouvertes via https://TropicsBusinessSummit.com ou via https://facebook.com/TropicsBusinessSummit. Suivez nos hashtags officiels sur les réseaux sociaux #TropicsBusinessSummit #TropicsSummit et #TropicsSummitFromHome pour ne manquer aucune actualité.