Johannesburg, South Africa (October 7, 2021) – HRH Queen Diambi Kabatusuila Tshiyoyo Muata of Congo, will appear at the 5th Annual Tropics Business Summit (TBS) to discuss the trade and investment opportunities in Kasai Region and Africa at large. She will also highlight projects the Elikia Hope Foundation and Queen Diambi Family Office is developing for a better development of African public and private sectors for the benefit of local and regional economies. This year's Summit will be held via livestream from October 12-16, 2021, on the Tropic Business Summit Facebook and YouTube pages respectively.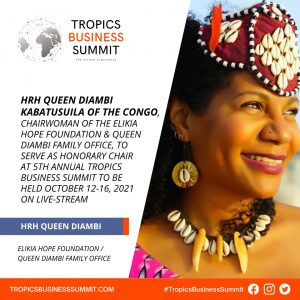 The Tropics Group, The Elikia Hope Foundation and Queen Diambi Family Office will sign a partnership agreement to accelerate innovation throughout sub-Saharan Africa through its subsidiary company, Tropics Invest & Co.
Queen Diambi serves as Chairman and President of The Elikia Hope Foundation and the Queen Diambi Family Office and partner of Private Offices in the Middle East. Queen Diambi of the Congo, known for her philanthropic efforts and drive to make Africa a destination of choice for business, has numerous interests in other industries.
The daughter of a Belgium mother and a Congolese diplomat father, she was born in Belgium, grew up in the Democratic Republic of Congo and has vast multicultural experience. She bears the title of Diambi Mukalenga Mukaji Wa Nkashama (Queen of Leopard Order) and she was included and introduced in Kinshasa by the Traditional and Customary Authority of Congo on August 5th, 2017.
The Tropics Business Summit is considered one of South Africa's most important annual events bringing together African investors and direct foreign investment.
The Summit has become one of the most important investment channels in Africa and throughout the diaspora. With the support of international sponsors and partners, entirely focused on stimulating intra-African trade and bringing in investment partners focused on the African continent, the continuing financial gap between the English, French, Portuguese, Spanish, and Arabic speaking markets can be bridged.
Register for the Tropics Business Summit at. https://TropicsBusinessSummit.com or via https://facebook.com/TropicsBusinessSummit Follow our official hashtags on social networks #TropicsBusinessSummit #TropicsSummit and #TropicsSummitFromHome