Johannesburg, SOUTH AFRICA (TROPICS VENTURES GROUP) — Son Excellence Madame Hawa Beavogui, Patricia Monthe, Queen Diambi of the Congo, Virginie Mounanga et Nomsa Nteleko ont en commun d'avoir révolutionné leurs secteurs d'activités respectifs. A la 5eme édition du TROPICS BUSINESS SUMMIT, elles interviendront en qualité de Marraines et partageront leurs expériences respectives avec les digi spectateurs, après une année marquée de challenges.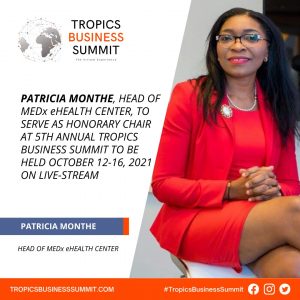 Le TROPICS BUSINESS SUMMIT est considéré comme l'un des événements annuels les plus importants d'Afrique du Sud rassemblant investisseurs africains et IDE. Ledit sommet est devenu l'un des canaux d'investissement les plus importants en Afrique et dans la diaspora. Avec le soutien de ses Parrains et Partenaires internationaux entièrement axés sur la stimulation du commerce intra africain et l'apport de partenaires d'investissement focalisés sur le continent africain, il est possible de combler le fossé financier qui perdure entre les marchés anglophones, francophones, lusophones, hispanophones et arabophones.
Parmi les Marraines de la 5ème édition du TROPICS BUSINESS SUMMIT, on compte Patricia Monthe, Directrice Générale de MEDx eHealth Center, la plateforme médicale dont l'objectif est de créer un réseau solide de professionnels compétents disponibles et accessibles à tout moment, même pour les populations les plus démunies. Née dans la ville de Douala, elle réside aux Pays-Bas où elle nourrit l'ambitieux projet de dématérialiser les services de santé traditionnels en les substituant par des hôpitaux numériques.
Cette solution qui a pris la forme d'une plateforme digitale se décline en sept services principaux dont le premier se nomme Self Care (auto soins), tandis que les autres Medical Care, Financial Care, Medical Care, Emotional Care et Material Care proposent respectivement une prise en charge médicale, financière, médicamenteuse, émotionnelle, institutionnelle et matérielle. La fonctionnalité centrale de la plateforme est Self Care, un service d'auto soins et d'auto gestion. Il permet à chaque patient de créer un profil et gérer en toute autonomie les informations relatives à sa prise en charge (paiements, historique des rendez-vous, compte-rendu des médecins, etc. Patricia Monthe continue à œuvrer pour l'expansion de son entreprise dans plusieurs pays d'Asie et d'Afrique (y compris son Cameroun natal).
Avec son équipe, elle contribue à la conceptualisation et l'implémentation de tout ce qui est lié à la couverture universelle de la santé tout en intégrant la technologie pour servir les gouvernements, centres hospitaliers, laboratoires, pharmacies et autres institutions dans le secteur médical qui ont besoin d'innover pour survivre.
Sa vision ultime demeure d'ériger sa plateforme en premier hôpital numérique offrant tous les services de soins axés sur la gestion auto soin, et les différents types de l'e-santé (primaire, secondaire et tertiaire). L'idée étant de mettre en place un tout nouveau modèle organisationnel et fonctionnel de systèmes de santé qui rassemble toutes les parties prenantes impliquées dans le système national de santé afin de réassurer et de fournir durablement des soins accessibles et de qualité.
"Je marraine la 5ème édition du TROPICS BUSINESS SUMMIT, cette année, parce que je crois fermement que les dirigeants des pays émergents doivent être mis au fait que déconstruire les codes peut devenir une réalité dans le secteur de la santé. Le sommet offre une plateforme pour engager des discussions innovantes et sans frontières sur un large éventail de secteurs et en va de notre intérêt commun de participer afin d'impacter notre ère comme il se doit. Reconstruire en mieux après la Covid-19 nécessite de sortir des sentiers battus. De ce fait, le TROPICS BUSINESS SUMMIT est une plateforme incontournable au travers de laquelle on peut partager, stimuler, challenger l'état d'esprit Covid-19. C'est ce que ce cinquième sommet apportera à tous les participants et c'est la raison fondamentale qui me pousse à m'y associer."
Les inscriptions au TROPICS BUSINESS SUMMIT sont ouvertes via https://TropicsBusinessSummit.com ou via https://facebook.com/TropicsBusinessSummit. Suivez nos hashtags officiels sur les réseaux sociaux #TropicsBusinessSummit #TropicsSummit et #TropicsSummitFromHome pour ne manquer aucune actualité.