Pour son exposition La ventriloque rouge au macLYON, l'artiste sud-africaine Mary Sibande porte le format de la sculpture et de l'installation à une échelle inédite dans son travail. 

S'appuyant sur différents personnages et codes de couleurs, elle développe depuis plusieurs années un art de la sculpture et de l'installation qui témoigne de la vie des femmes de sa famille et, à travers elles, des conditions de vie des femmes noires sud-africaines et de leur place dans l'histoire complexe d'un pays construit sur la ségrégation raciale.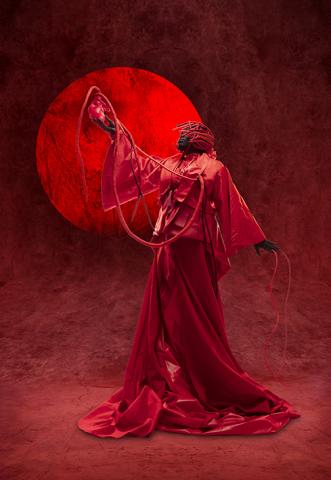 Selon l'artiste, les conditions politiques réunies à la fin de l'apartheid ont peut-être donné des droits civiques à la majorité noire, mais les décisions politiques qui ont suivi ont empêché une véritable refonte sociale et économique du pays ; la minorité blanche conservant son emprise sur l'économie, laissant la plupart de la population noire dans une situation de précarité. Ce phénomène ne s'est pas résorbé au fil des ans et la frustration et le sentiment d'injustice a favorisé une violence que Mary Sibande associe à cette inégalité structurelle.

La violence, ancrée dans la vie de ces populations fragilisées, inspire à l'artiste une réflexion sur la canalisation de la colère qui se matérialise au macLYON sous la forme d'une vaste installation sculpturale et sonore sur un étage entier.
Mary Sibande est née en 1982 à Barberton (Afrique du Sud), elle vit et travaille à Johannesbourg (Afrique du Sud).
Les œuvres de Mary Sibande ont représenté l'Afrique du Sud à la Biennale de Venise 2011, elle était exposée au macLYON pour la 12e Biennale (2013), à la Biennale de Lahore en 2020 et a récemment bénéficié d'expositions monographiques à la Somerset House à Londres en 2019,  au Frist Art Museum, Nashville, Tennessee, Etats-Unis, à la Kavi Gupta Gallery, Chicago, Illinois, Etats-Unis et à l'University of Michigan Museum of Art, Ann Arbor, Michigan, Etats-Unis.