Le TROPICS BUSINESS SUMMIT (TBS) est de retour en format présentiel. Après 5 sommets consécutifs organisés à Johannesburg, en Afrique du Sud ainsi que les 2 derniers sommets organisés au format numérique, le conglomérat sud-africain TROPICS GROUP OF COMPANIES est fier de rendre ledit sommet itinérant et de le transporter en Afrique de l'Ouest. Pour la première fois de son histoire, le TROPICS BUSINESS SUMMIT (TBS) sera organisé hors de la République sud-africaine. Sur l'invitation spéciale de M. Francisco Carvalho, maire de la ville de Praia, le TROPICS BUSINESS SUMMIT (TBS) aura lieu en République du Cap-Vert du 10 au 15 octobre 2022, réunissant sous un même toit la "crème de la crème" du monde des affaires et de l'investissement international.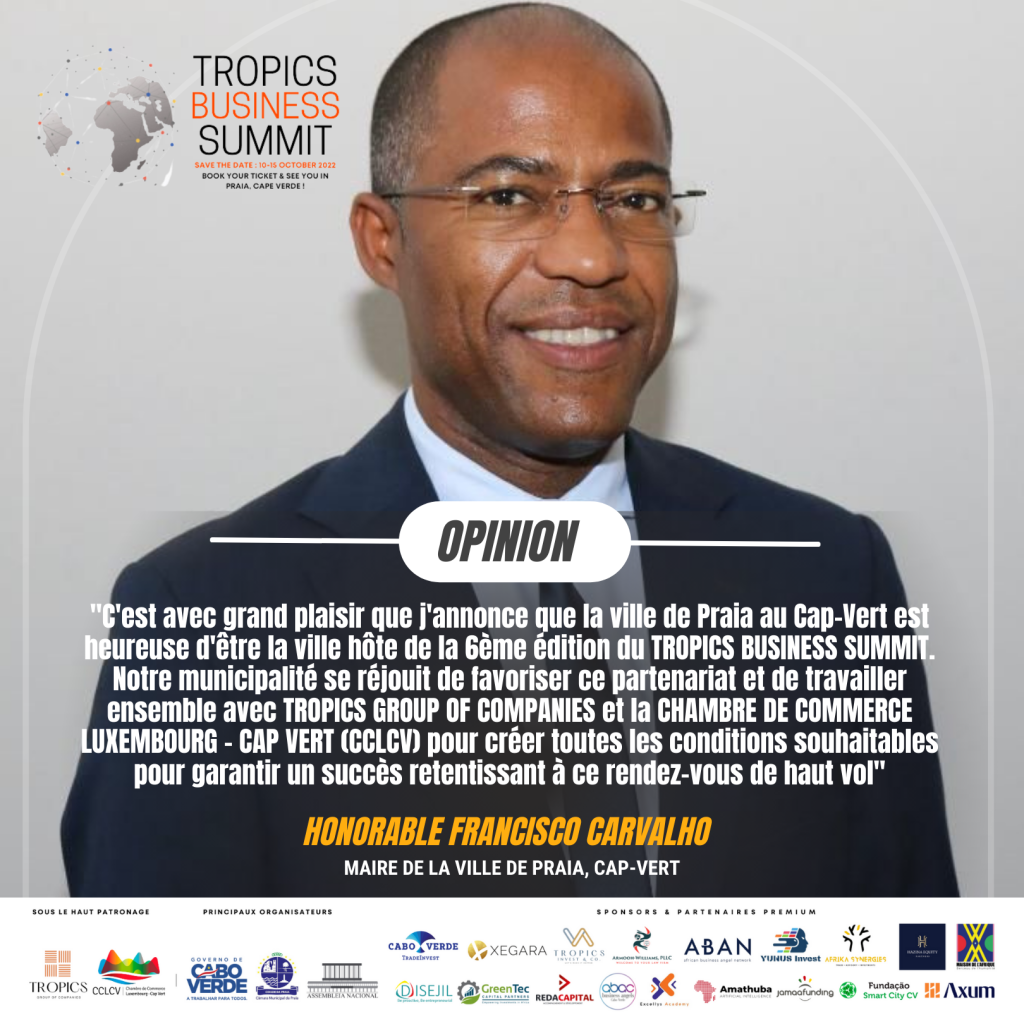 Que vous soyez membre de gouvernement, institutionnel, dirigeant d'une TPE/PME, freelance, créateur d'entreprise, startupper, investisseur, institutionnel, chef d'entreprise, consultant indépendant ou professionnel du conseil et de l'accompagnement des entrepreneurs et/ou des investisseurs… connectez-vous au TROPICS BUSINESS SUMMIT ainsi qu'au TROPICS EXPO pour promouvoir, lancer, relancer, exporter, redynamiser votre activité, réinventer vos méthodes, réactiver votre réseau, rencontrer à nouveau les experts de l'investissement de l'innovation entrepreneuriale en Afrique et dans le monde.
Au rendez-vous, un 6eme sommet TROPICS BUSINESS SUMMIT consécutif qui fait son retour en format présentiel et propose aux entreprises ainsi qu'aux pays de se constituer en pavillons pour aider les entrepreneurs à relever les nouveaux défis, attirer de nouvelles sources d'investissement et à créer une vitrine pour leur pays respectifs en terme de tourisme et de valorisation de compétences.
Représentants-pays, freelances, créateurs d'entreprises, entrepreneurs : rendez-vous du 10 au 15 octobre 2022 à Praia, la plus grande capitale de la République Capverdienne pour participer activement à cette grand-messe de l'investissement et de l'entrepreneuriat qui vous est consacré pour une sixième année consécutive.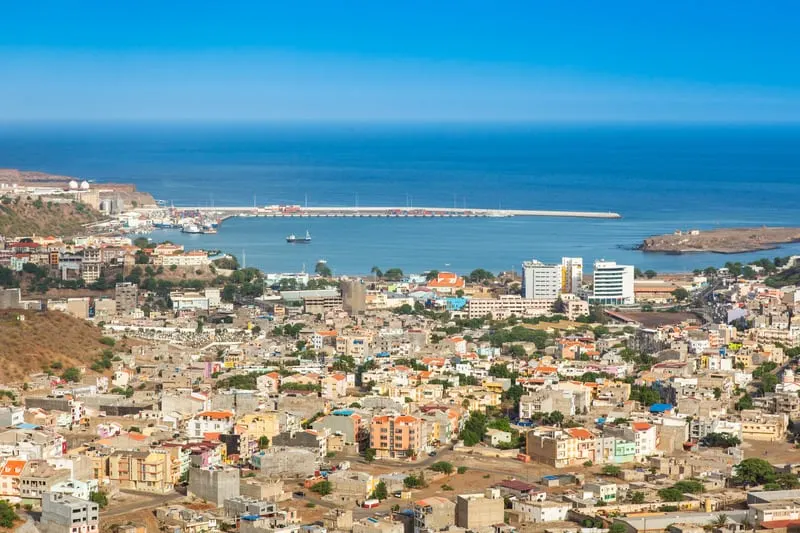 Au programme :
• Day 1 – October 10, 2022 – Tropics Creative Industries Showcase (TCIS) + Tropics Meet-and-Greet + Networking (English, french and Portuguese) + Tropics Food Experience Tropics Expo
• Day 2 – October 11, 2022 – Opening Ceremony + Conference on Public-Private Partnerships (PPP) High Level Meetings + Networking lunch + Tropics Dealroom
• Day 3 – October 12, 2022 – CEO & Investors Forum + Tropics Dealroom + Networking lunch + Tropics Expo + Tropics Dealroom
• Day 4 – October 13, 2022 – Tropics Women in Business (TWiB) Forum + Tropics Dealroom + Networking lunch + Tropics Expo + Tropics Dealroom
• Day 5 – October 14, 2022 – Tropics Travel Experience + tropics food Experience + Free-Style Networking
• Day 6 – October 15, 2022 – Tropics Wine/Champagne Reception on the blue carpet + Tropics Gala Dinner + Tropics Awards Ceremony + Tropics After Party
Le salon TROPICS INTRA-AFRICAN EXPO servira de rencontre incontournable pour tous les professionnels émanant des secteurs suivants: Capital-Investissement, Social Media, Marketing, Publicité, Communication, Relations Publiques, Services Web, Technologie, Arts, Divertissement, Industries Culturelles et Créatives, Services Professionnels, Franchises, Gouvernements, ONGs, Fondations, Institutions Académiques, e-Commerce, FMCG, Grande Distribution, Industrie des Services, Agribusiness, Tourisme, Transport, Santé, Ingénierie, Construction, Architecture, Design, Gaming, Sports, Media, Énergie, Mines, Droit, Ressources Humaines, Food, Hospitalité, Luxe, Beauté, Mode, Musique, Cinéma, Immobilier, Numerique, Services Financiers, e-Commerce, Banque, Services Web, etc.
Pour plus d'informations sur ce prochain rendez-vous, nous vous invitons à demander notre brochure: hello@tropicsbusinesssummit.com cc tropicsbusinessevents@gmail.com et surtout prenez le soin de vous enregistrer à temps pour éviter toutes mauvaises surprises. Notre comité d'organisation se tient à votre disposition pour répondre à toutes vos éventuelles questions et préoccupations.
Découvrez les conférences, les rencontres B2B / B2C / G2B dans la Tropics Dealroom en détail et enfin, réservez votre agenda pour profiter de ce voyage d'affaires vers le pays de Cesaria Evora et Amilcar Cabral.